My primary background is fashion design. For close to fifteen years I coloured lengths of cloth, took them to garment factories to be made mostly into shirts and also women's two piece outfits. My main market was direct customers that I built up from making the rounds of the offices in Port of Spain, Trinidad, at the end of each month.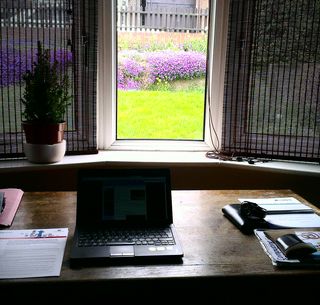 I also supplied tourist shops in Tobago, Grenada and Barbados always looking to differentiate my products with design, quality or price. This made my sales trips easier and buyers were always excited to carry my line.
I moved to the UK and shifted to soft furnishings with a stall at Covent Garden and the chance to supply my cushions to stores. I then wanted a change of career and thought computing was a challenge I should take up.
My first computer was bought in 1999 and I remember taking it home, puzzled about how to turn it on! An IT newbie. I did a BSc in A.I. and then moved into InfoSec for a MSc. My first job in this field was as a Web Application Analyst helping a development team to write secure code.
Throughout my career I have always maintained the idea that InfoSec is about protecting information as it travels across an organisation. This should be done in such a way that all staff can contribute at their point of contact with the data and the interaction should be as abstract as possible so that more attention can be paid to the business aspect of the function.
I changed cars a few months ago and only recently opened the bonnet to top up the windscreen washing liquid. This is how I envision InfoSec should appear to most members of staff. Focus on the driving and not the mechanics. I trust that if the engine needs oil, the oil light will flash. Pretty much as I expect the fuel gauge to let me know when to fill up.
A lot of the language of InfoSec is inside speak and this can be self-defeating for practitioners because it focuses on the technology and misses the point of the entire exercise, which I believe is to safely conduct business with digital information.
A couple years ago I was driving on the Autobahn and saw whenever we had to make a sudden stop, the hazard lights on the other cars will go on. I thought the German drivers were really skilled, to have the presence of mind to hit that switch in an emergency situation. Don't laugh!