Returned to Gatwick on Sunday morning greeted by genuine winter weather. The deicers were preparing a plane for taxiing, the jetty for our flight was stuck and the old skool steps were iced over. A cold punctual train took us to a warm taxi, soon after, home.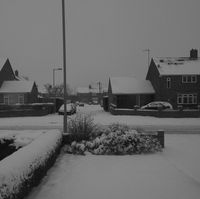 The view that afternoon was exciting. Real snow piled higher than most times and set to last for days. The light was changing rapidly and the traffic died down to leave a twilight quiet street.  I started to think about the New Year and what changes I wanted for BD&F in 2013.
Last year I started designing InfoSec governance solutions, automated to help line managers with governing InfoSec compliance. These applications presented users with aggregated interfaces triggered by events translated from legacy functions.
I worked with in-house developers and small budgets to produce, host and deploy these programs to the benefit of all staff involved with the targeted processes. My contribution was my InfoSec knowledge and the analysis of the work flows.
This year I will learn to program in .NET as I think it will broaden my skill set and give me the capability to be more hands on in the development process. I used Reporting Services years ago and enjoyed it.
It is a commitment I debated for some time, weighing up pros and cons of spending the time to learn to code. I thought about focusing on design and project management but figured that coding will inform my practice in those areas including how I communicate with fellow developers.
Looking out on the street Sunday evening I decided to commit to this because the holiday trip was seen as the hand over point for plans that were earmarked for action this year. I was thinking a change was as good as a rest.