When I was a child in Trinidad the two main imported bicycles were Raleigh and Humber. Both were from the same company but Raleigh was the 'must have' brand and my first bike was a Chopper. Looking at my family's collection of bikes today I realised that they were all Raleighs.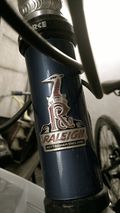 During my cycle racing days I always kept an eye out for Raleigh but thought they weren't up to the performance level of the Continental and newer American brands. A few years ago I started taking the English brand seriously again and the selection for 2013 looks the business. There might be another addition to the collection soon.
As an InfoSec consultant I am always talking about the protection of reputation and how important to is for companies to maintain their public perception intact. With eCommerce it is more important that customers trust that their purchases will be secure and the exchange of goods for money will be seamless.
I am always hesitant to buy from a new online seller. I always check that my trusted online retailers stock what I looking for and if the price is right, I buy from my tried and tested. I am not too sure what I will do if one of those retailers reports/is reported losing my information. It all comes down to how the situation is handled and what treatment is meted out to me as a valued customer.
Coming back to Raleigh, in my opinion they have always portrayed themselves as a trustworthy bicycle company with the widest range of products, tuned for each sector. During the 80s and 90s they maintained that image although the products were not at the forefront of the market. Now that the company is on the rebound, I take pride in being a close witness to that journey.